Bio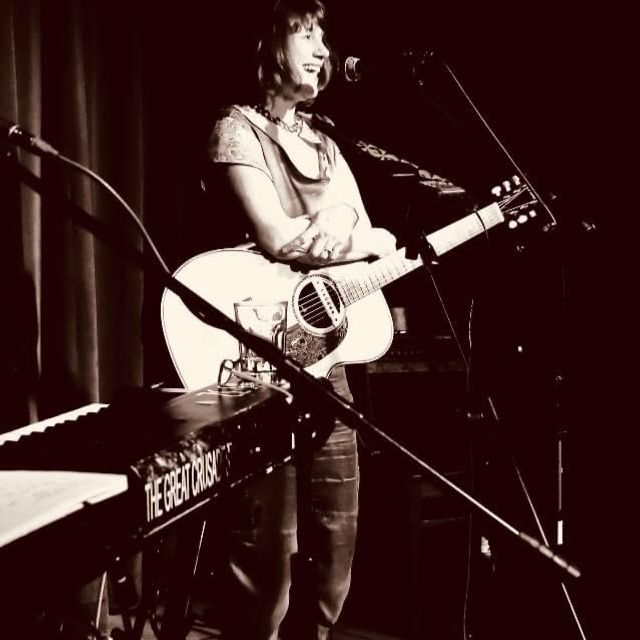 Michelle Shafer
Living Through the Music
Michelle Shafer is a Chicago based multidisciplinary artist: singer songwriter, poet, fine craft artist, co owner/partner at Q3 Art, mother and wife. 
She describes her musical identity as that of a "singer songwriter poet" with guitar skills. Her guitar arrangements have been described as a framework for her voice. Her playing is worldly and directly flavored by folk/rock, classical guitar, and traditional finger style. She mostly writes using nylon string and steel string guitars and sometime piano.  Recently she's added ukulele!
Her lyrics touch on subjects of love in it's many forms, spirit, time, life's purpose, hope and loss. Eclectic but always authentic, her work speaks from and to the heart, resonating with a voice that has been described as mesmerizing, transporting and beautiful. She believes songs are happenings. As a creative, she feels they are pulled out of the realm just beyond and she is the fortunate conduit that brings the "work" into the tangible. She affirms there is a creative force that drives her and is beyond her.  Her genres she writes in lie in the constructs but not limited to Indie rock. chamber folk, Americana and jazz. 
Michelle was a featuredArtist at Poetry on The Green September 2022 put on by Chicago Poetry Center.
Michelle has had several multi disciplinary projects with dancers at Chicago Danz Theatre Ensemble:
Wax, Body Passages Festival,  October 2018 a collaboration with poet Jae Green and dancer, Carly Broutman. 
Poetry by Jae Green and music/lyrics composed by Michelle Shafer.
Opens Wings, Women in Response Festival March 2018  Open Wings is a performance piece with dance, music, poetry, and imagery about the rise of a woman's wisdom through out her life.  Music, lyrics and poetry written, composed and performed by Michelle Shafer. 
Love, Loss and Longing, Heart Knows Festival October 2015.  A dance triptych .Three kinds of love love for God/spirit, family, and passionate forbidden love. Music/lyrics composed by Michelle Shafer.
Featured musician live pre show for Piece of My Heart May 2016. 
Many of her songs have been included on Woman of Substance Radio Podcast from 2018-2023. Michelle has appeared on WVLP Arts on the Air in 2020 and 2021.  She was featured on WVLP Radio's The Music Box January 2018. WIMS Roxy Music Showcase in 2014 and in 2016. 
Presently she is wrapping up the details on her next eleven song project with Brian Leach, instrumentalist and producer with whom she's worked with since 2013. She continues writing songs and recording new tracks.
Releases
Over Our Heads 1999
Dashboard 2014
Love Loss and Longing Soundtrack 2015
Grey Area 2015
Love Forever 2018
Open Wings poetry and songs 2018
Seasons of Light song written by Michelle Shafer and David Kowal